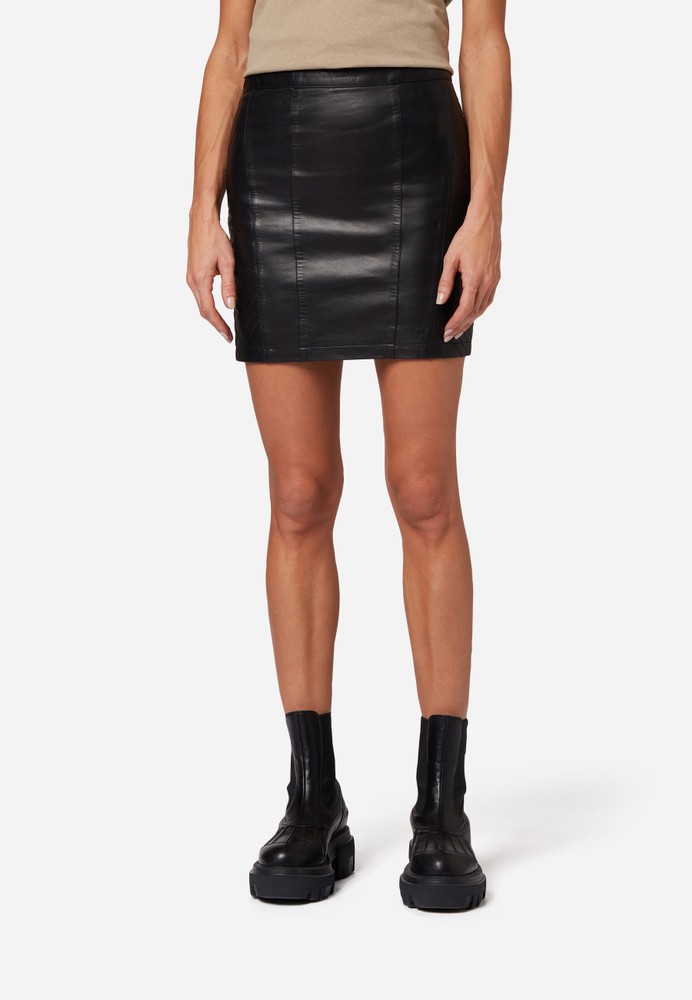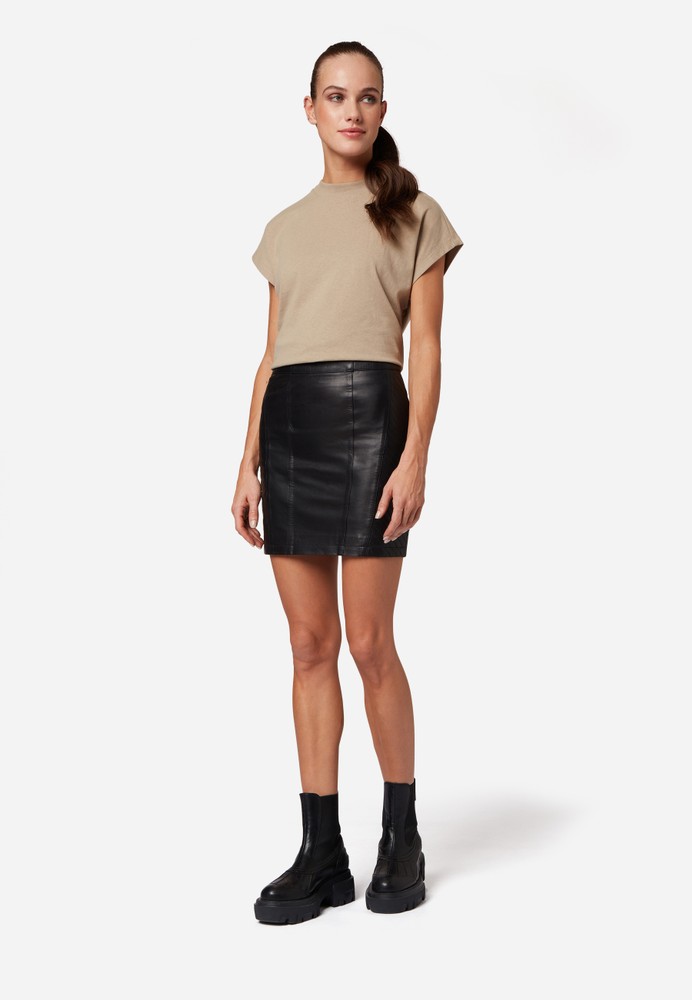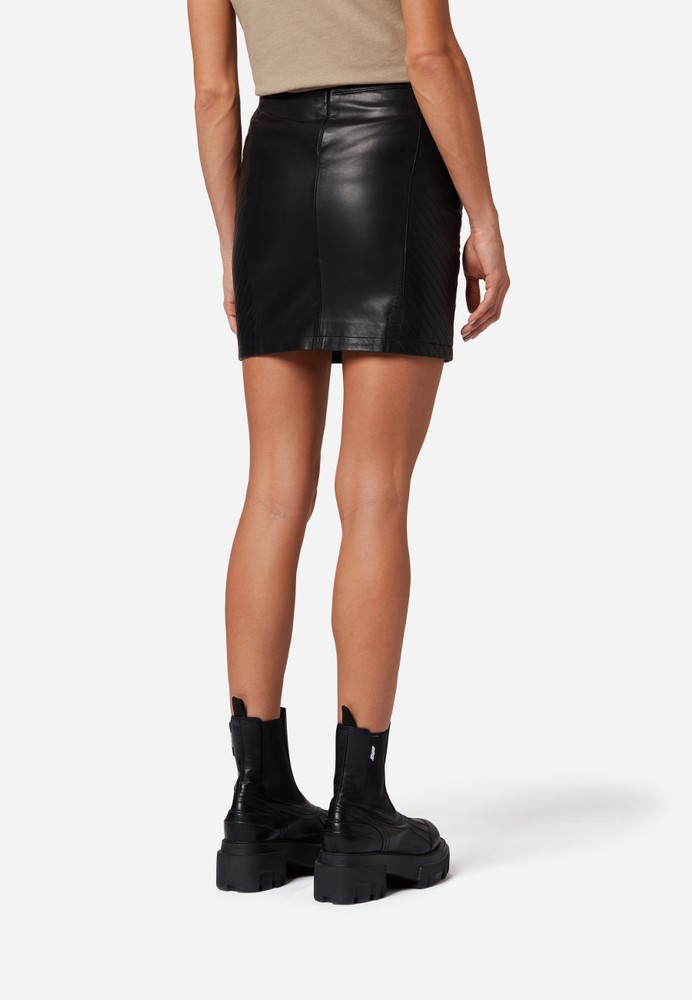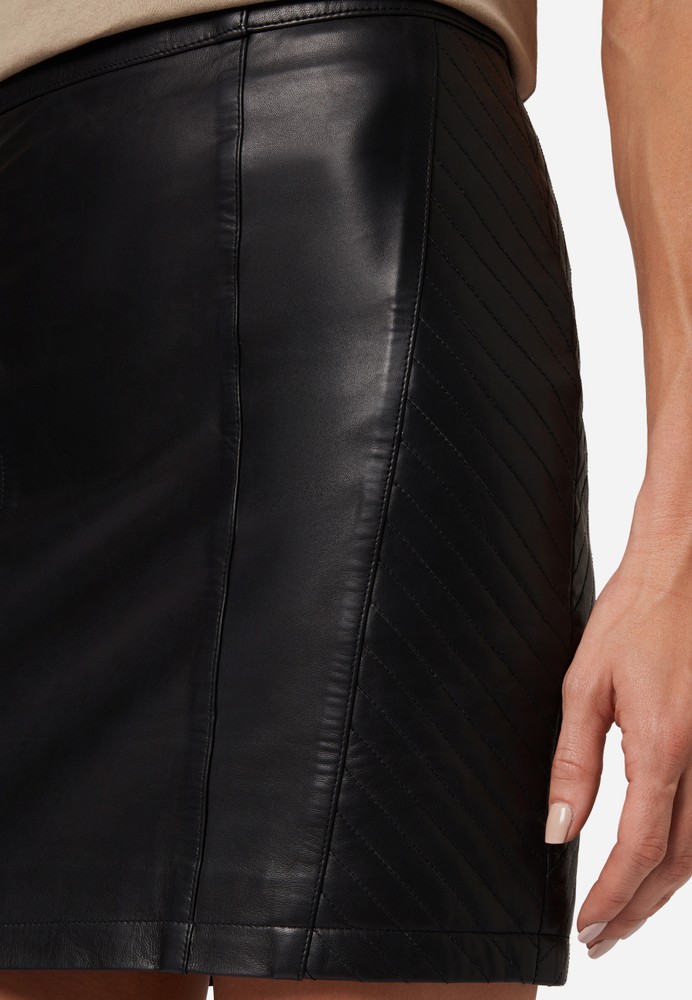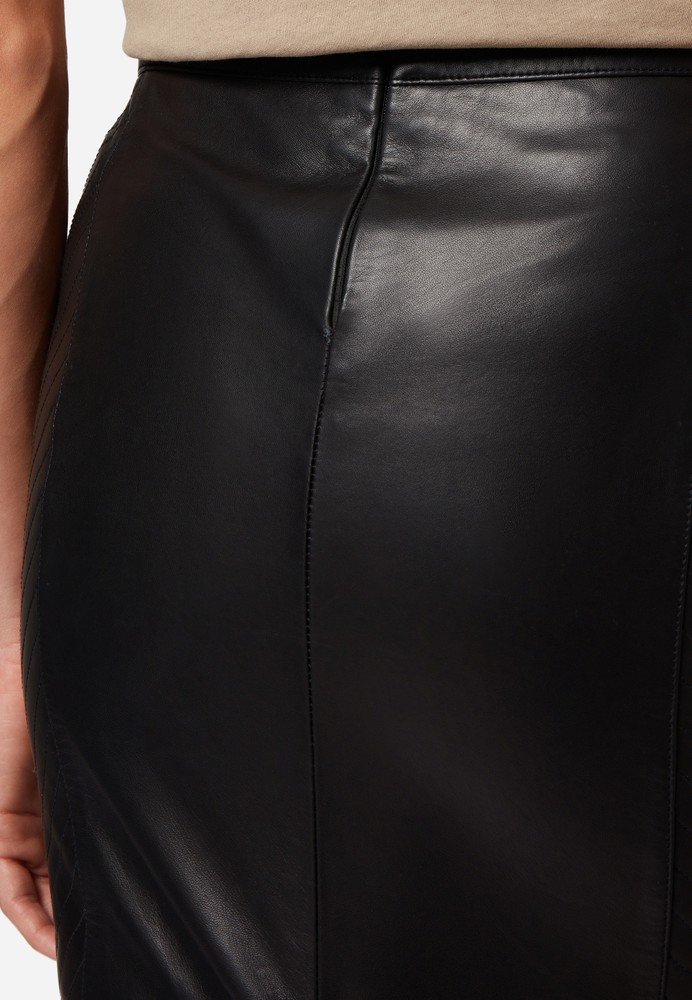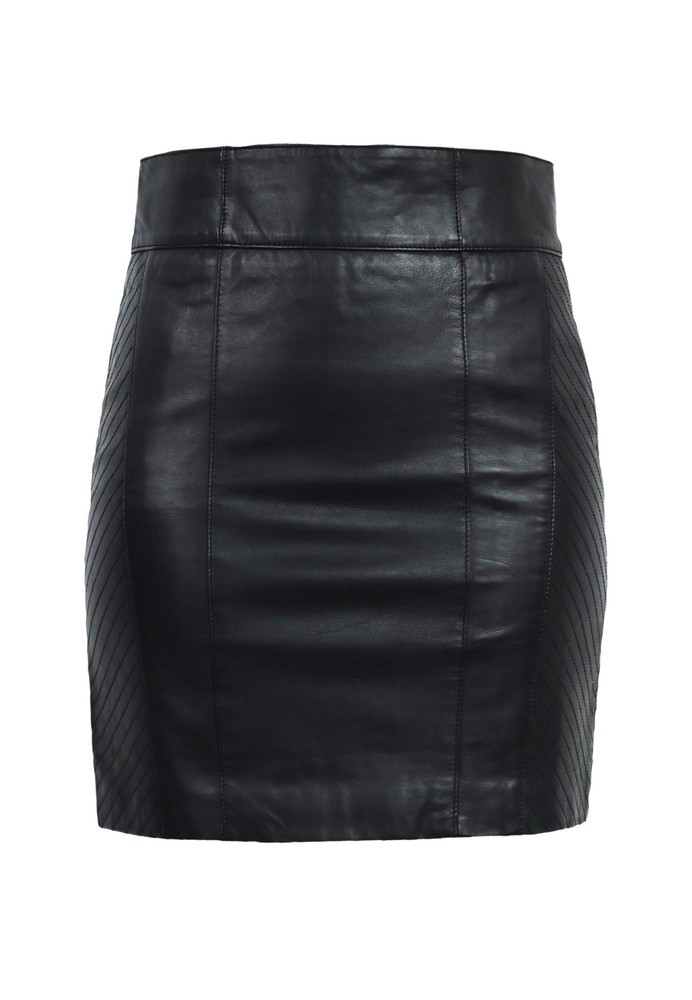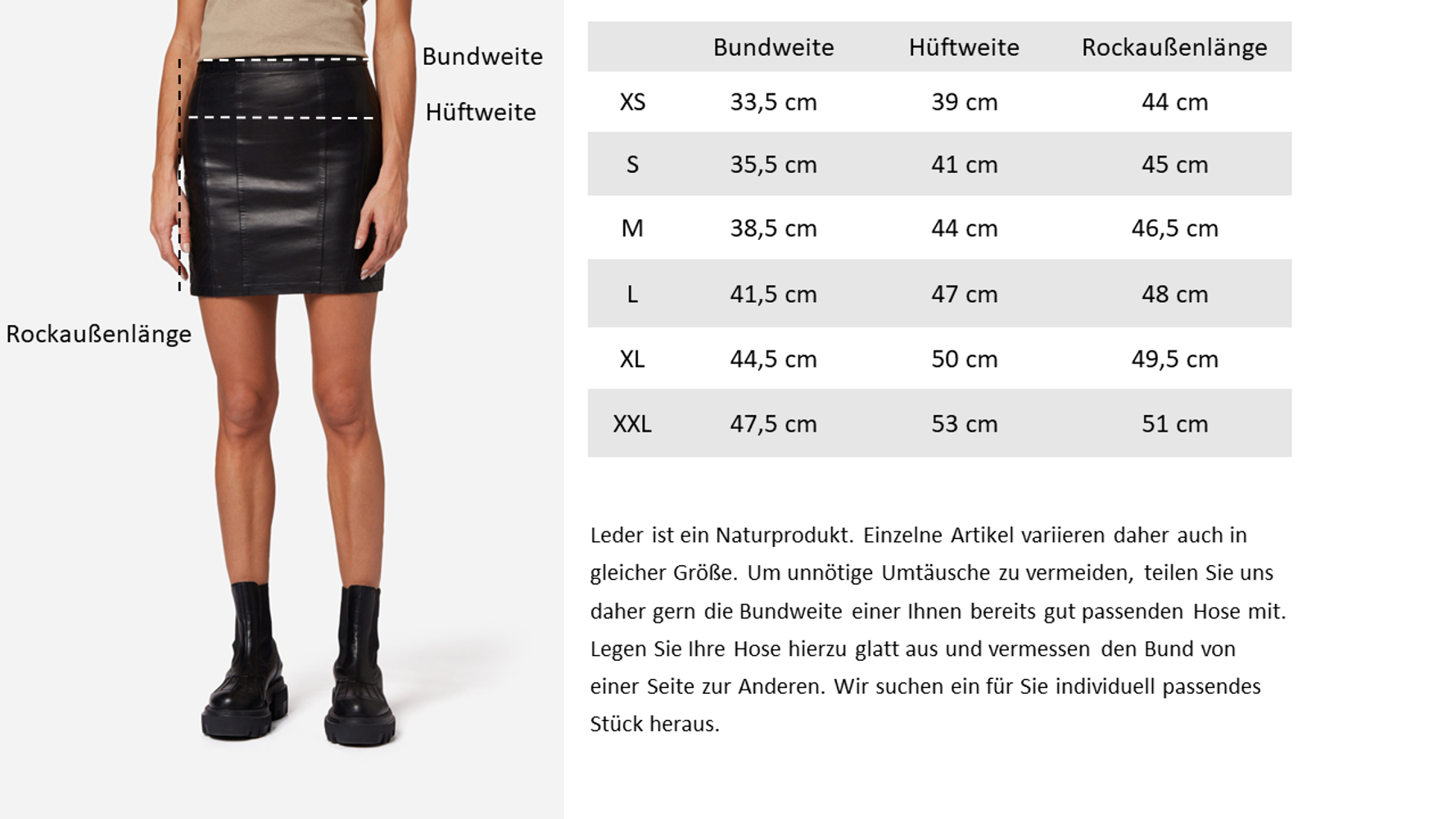 Ricano
Damen-Lederrock
1264 Skirt
Item number: 1264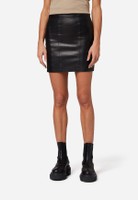 Ladies denim skirt style leather skirt

100% Genuine and buttery soft lamb nappa leather - smooth leather

High Waist - with high body height that reaches the belly - Feminine and figure-hugging Slim Fit
Jeans skirt look - classic and modern at the same time!

Year-round items - suitable for every season from spring to winter

Only professional and never in the machine

Closable by a zipper and button on the waistband

1264 Skirt - Stylish leather skirt in biker look
Nothing forüthe leather skirt 1264 Skirt is something very special! This trendy leather skirt comes with a classic cut and a modern twist: Wäwhile the simple, narrow slim fit and the high waist leggings areöheights give the 1264 Skirt an elegant look, the expressive stitching sets the toneüthe expressive stitching and biker applications on the sides add strong visual accents and give the skirt that certain something. Darümoreover üthe skirt convinces with an outer material of butter-soft, black lamb nappa leather, which is not only unique to the touch, but also to the feelüfeels, but also trälike a second skin. Thanks to its refined designäthe 1264 Skirt can be styled in almost any way: Whether rocking with boots, crop top and studded beltüelegant with ankle boots and turtleneck sweater or business-chic with blouse and pumps - with this leather skirt you make really üa good figure everywhere. What are you waiting for? Make a style statement - with the leather skirt 1264 Skirt!
Is the delivery and return free of charge?
The return shipping within Germany is always free of charge for them.

You can return items within 60 days free of charge and uncomplicated.

To create a return label for free return shipping, you can use our DHL returns portal at any time.
What do I do if an item does not fit?
Sometimes an ordered item does not fit ideally right away. Therefore, we have built a strong exchange service for you: exchange your non-fitting item uncomplicated, lightning fast and free of charge in another size.

Alternatively, you can of course request a refund of your payment.

To create a return label for free return shipping, visit our DHL Returns Portal.
How long do I have time to retun an item?
You can return items to us free of charge within 60 days, even if you purchased them on sale - the only important thing is that the items were not worn beyond a fitting..

Please take care not to detach or remove attached labels.
How can I pay?
Prepayment via bank transfer: You pay your order after purchase by bank transfer to the payment address noted on the invoice. After receiving your payment we will ship your items immediately.

PayPal: Pay conveniently and directly with PayPal. For this you must have a Paypal account. Paypal offers instant payment confirmation, conflict resolution and buyer protection.

Cash on delivery: You pay the order in cash to your DHL parcel delivery service upon acceptance of the shipment.
What size should I order?
We experiment a lot with cuts and sizes, and therefore can not give a blanket size recommendation. For each item you will therefore find an individual note in the details under "Size breakdown".

But if you want to be sure and avoid unnecessary back and forth shipping, you are welcome to note us your measurements when you buy. We will be happy to measure our stock and find the best possible fit for you.

For pants, the single waist size is important: simply measure the waist of trousers that already fit you well, from one edge to the other.

For jackets, the underarm width is crucial: take a well-fitting jacket and lay it flat when closed. Fold up the sleeves and measure from one armpit across the chest to the other armpit.

This indication in centimeters helps us to send you a promising piece at the very first attempt.
For all other requests we are of course also available by phone or mail.
Cookie Information
This website uses cookies to optimize your visit. By continuing to use this website, you consent to the use of cookies and acknowledge our Privacy policy