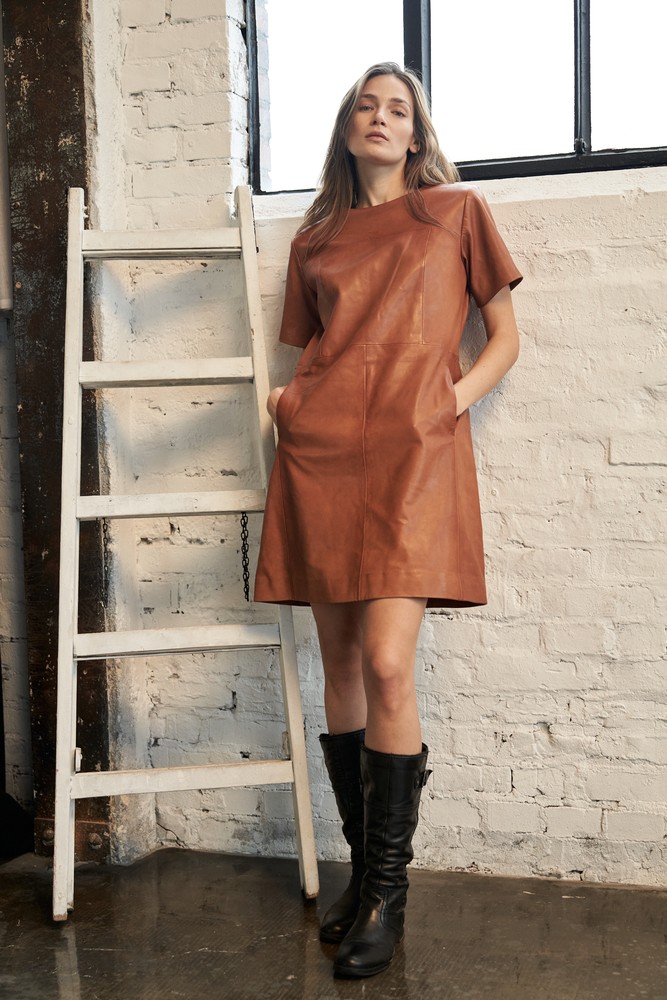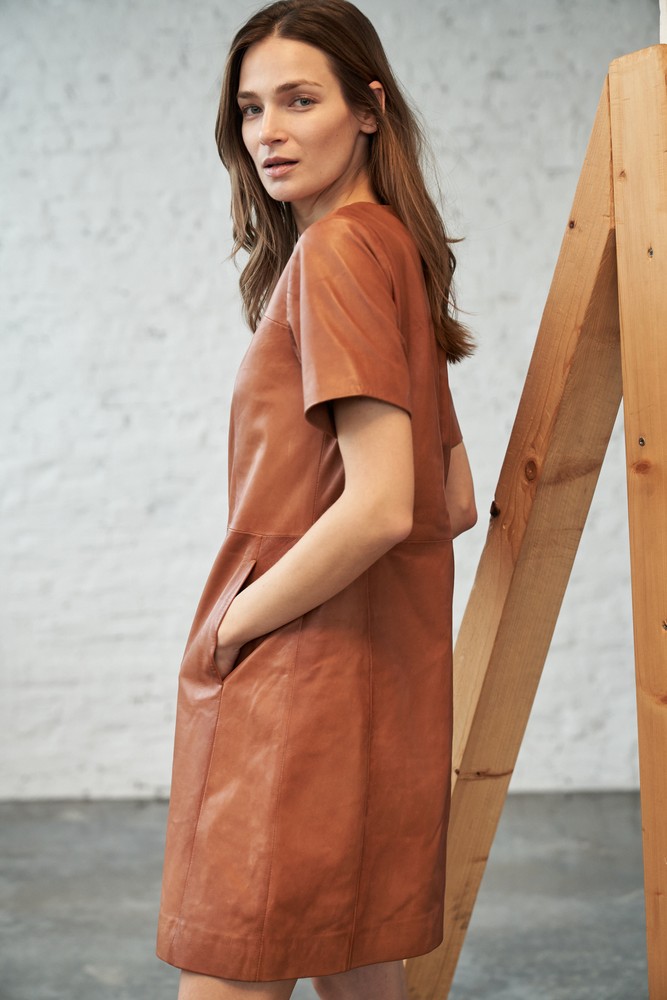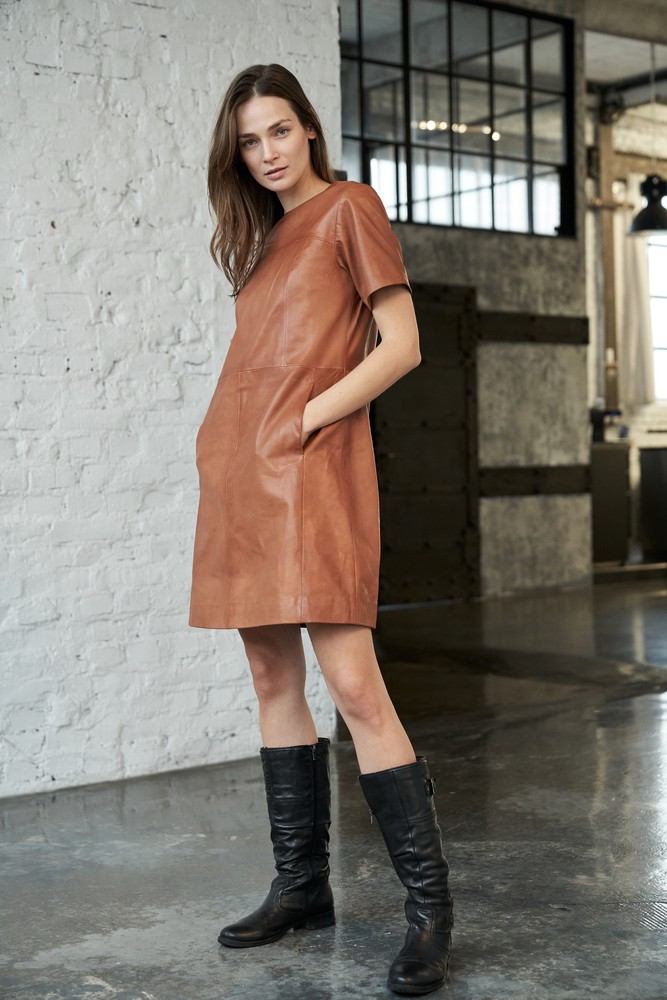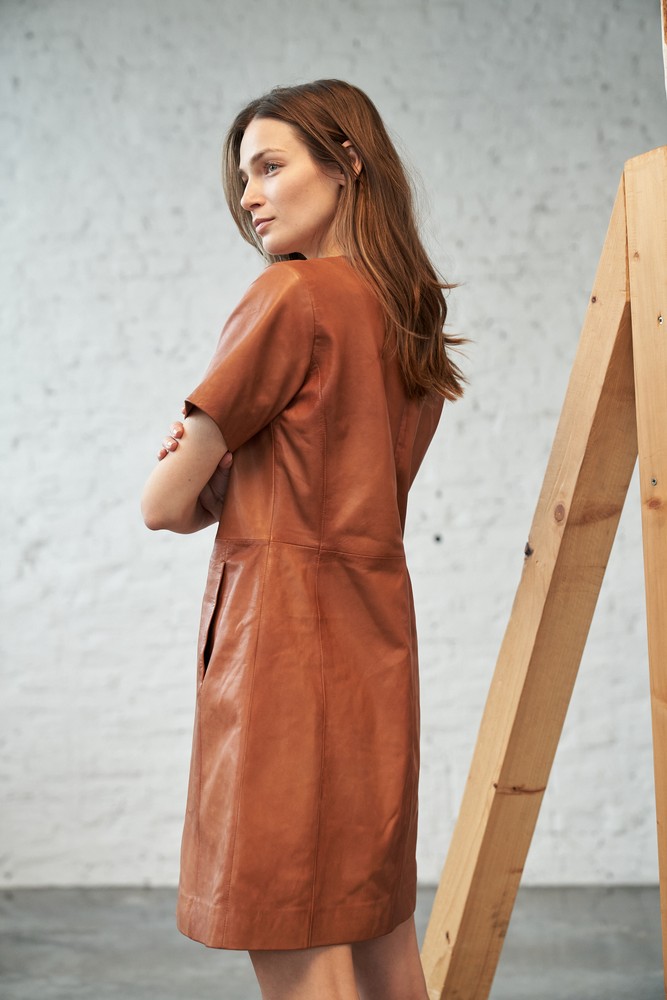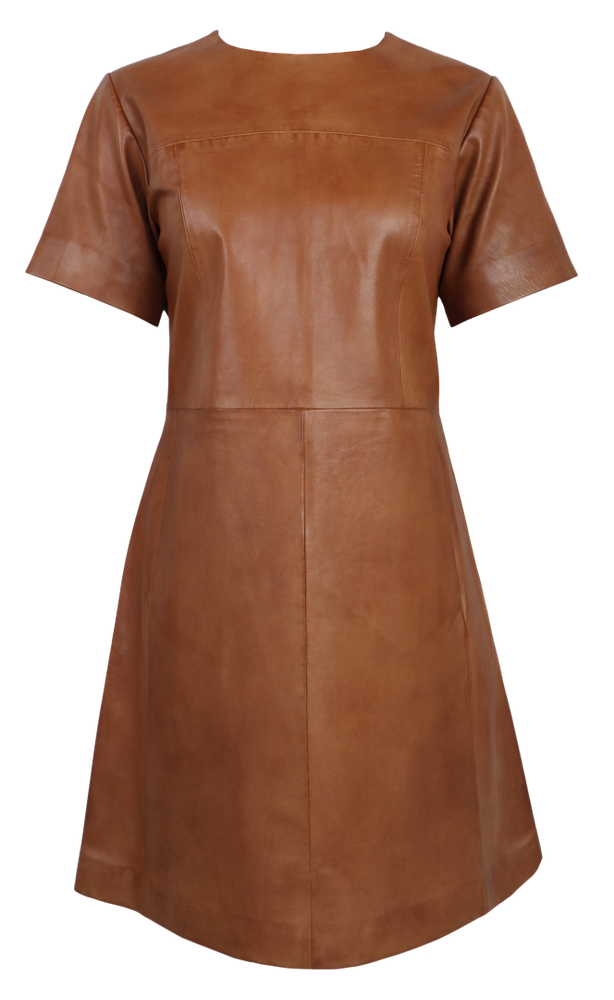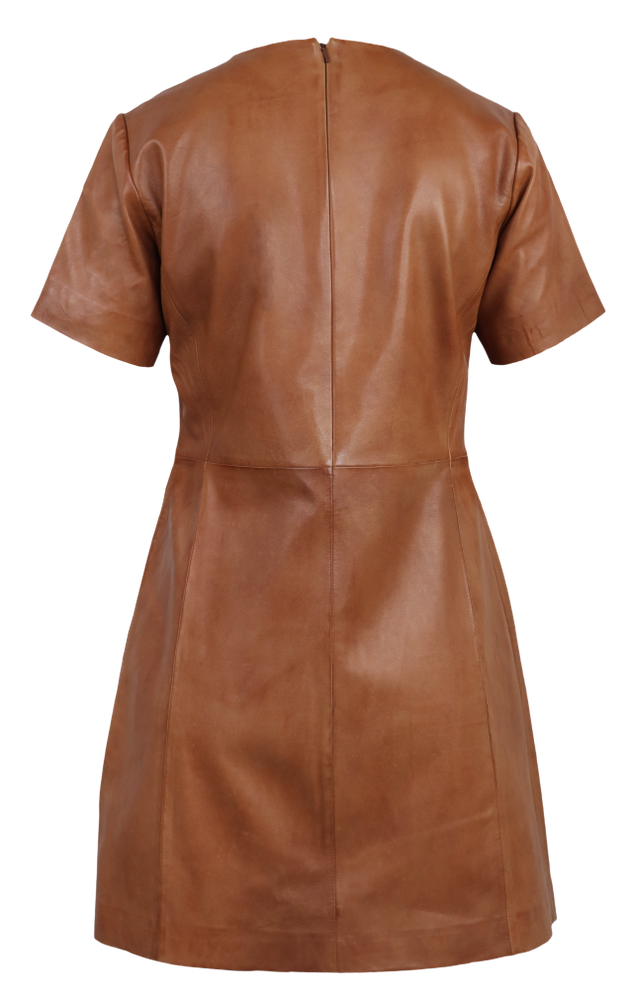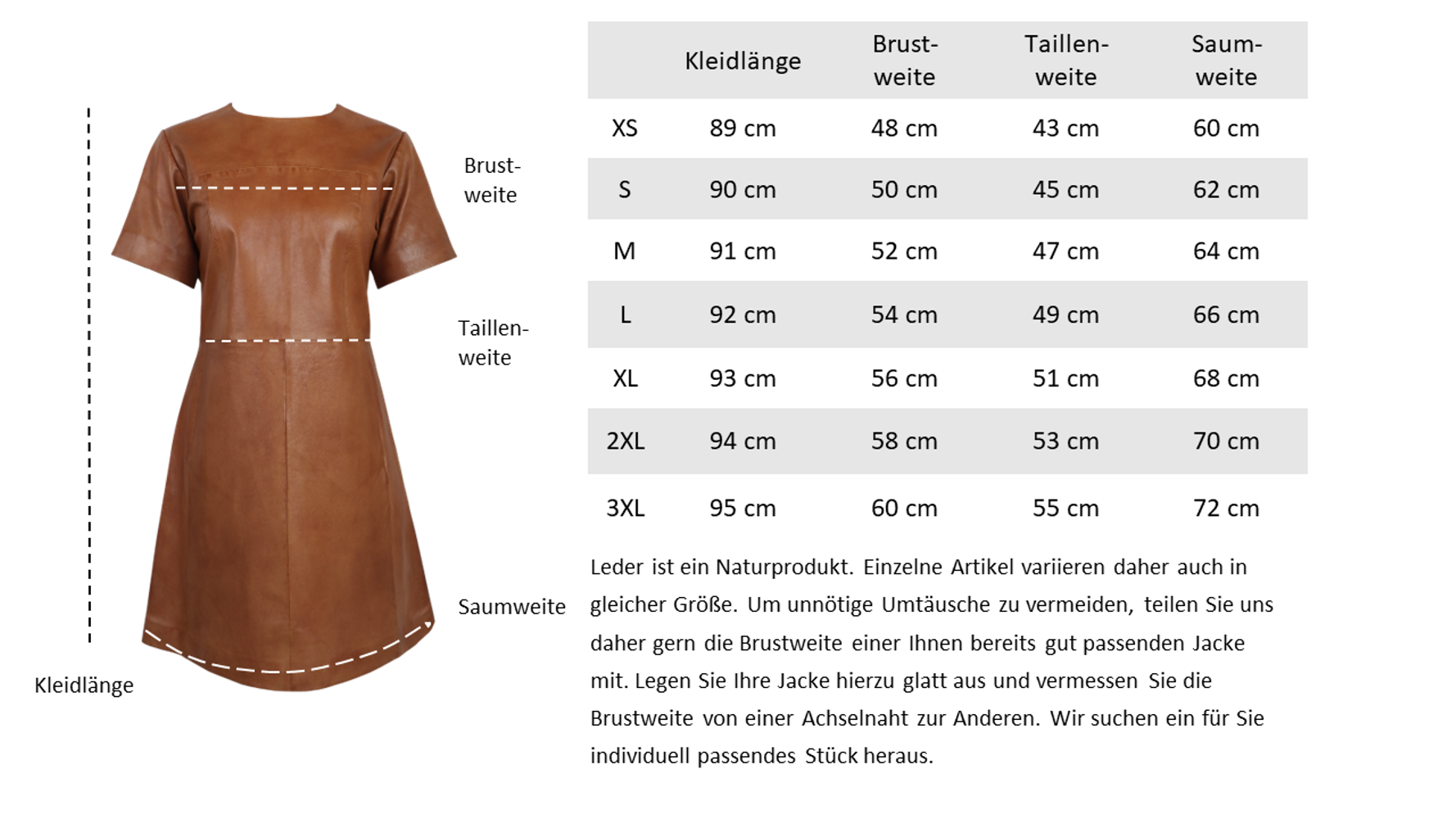 Item number: Inspire Dress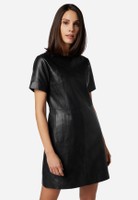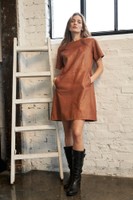 timeless and despite that again highly fashionable leather dress

100% Genuine and buttery soft lamb nappa leather - smooth leather

Comfortable and straight regular fit

Ideal for spring and summer

Only professional and never in the machine

The dress falls true to size
Femme - Minimalism at its best
Füfor fans of minimalist design: The leather dress Femme. With a reduced look, ücut Äsleeves and a straight, figure-hugging cut, the midi dress is simultaneously läcasual and ultra-modern at the same time. Onäthe dress has been deliberately designed without any flashy extras - in favor of a purist, clean look. The focus here is all the more on high-quality materials and precise workmanship: Butter-soft lamb nappa leather not only looks first-class, but also wears welläsoft and supple as a second skin, and the accentuated seam lines are aüthe accentuated stitching sets advantageous visual accents in the right places. Füfor a feminine, elegant look. The highlight: The side pockets, which give the dress its extra portion of coolness.
Thanks to its reduced, simple design, the Femme leather dress is a real combination talent. Whether läwhether you wear it casually with strappy sandals and an XL shopper for a summer stroll through the city, or ultra-modern with sneakers and a cross-body bag, or very elegantly with pumps and a blazer: the Femme model can be worn with leisure, everyday and business looks. The trendy dress is available in two colorsäcool black and warm cognac
Ist die Lieferung und Rücksendung kostenfrei?
Der Hin- und Rückversand innerhalb Deutschlands ist für sie stets kostenfrei.

Sie können Artikel innerhalb von 60 Tagen kostenfrei und unkompliziert zurückschicken.

Um ein Retouren-Label für den kostenfreien Rückversand zu erstellen, können Sie jederzeit unser DHL Retouren-Portal nutzen.
What do I do if an item does not fit?
Sometimes an ordered item does not fit ideally right away. Therefore, we have built a strong exchange service for you: exchange your non-fitting article uncomplicated, lightning fast and free of charge in another size.

For this purpose, you can simply note your exchange request on the invoice and enclose it with the shipment - We will immediately initiate the shipment of the exchange upon receipt of the return.

Alternatively, you can of course request a refund of your payment.

To create a return label for free return shipping, visit our DHL Retouren-Portal.
How long do I have time to retun an item?
You can return items to us free of charge within 60 days, even if you purchased them on sale - the only important thing is that the items were not worn beyond a fitting..

Please take care not to detach or remove attached labels.
How can I pay?
Prepayment via bank transfer: You pay your order after purchase by bank transfer to the payment address noted on the invoice. After receiving your payment we will ship your items immediately.

PayPal: Pay conveniently and directly with PayPal. For this you must have a Paypal account. Paypal offers instant payment confirmation, conflict resolution and buyer protection.

Cash on delivery: You pay the order in cash to your DHL parcel delivery service upon acceptance of the shipment.
What size should I order?
We experiment a lot with cuts and sizes, and therefore can not give a blanket size recommendation. For each item you will therefore find an individual note in the details under "Size breakdown".

But if you want to be sure and avoid unnecessary back and forth shipping, you are welcome to note us your measurements when you buy. We will be happy to measure our stock and find the best possible fit for you.

For pants, the single waist size is important: simply measure the waist of trousers that already fit you well, from one edge to the other.

For jackets, the underarm width is crucial: take a well-fitting jacket and lay it flat when closed. Fold up the sleeves and measure from one armpit across the chest to the other armpit.

This indication in centimeters helps us to send you a promising piece at the very first attempt.
For all other requests we are of course also available by phone or mail.
Cookie Information
This website uses cookies to optimize your visit. By continuing to use this website, you consent to the use of cookies and acknowledge our Privacy policy