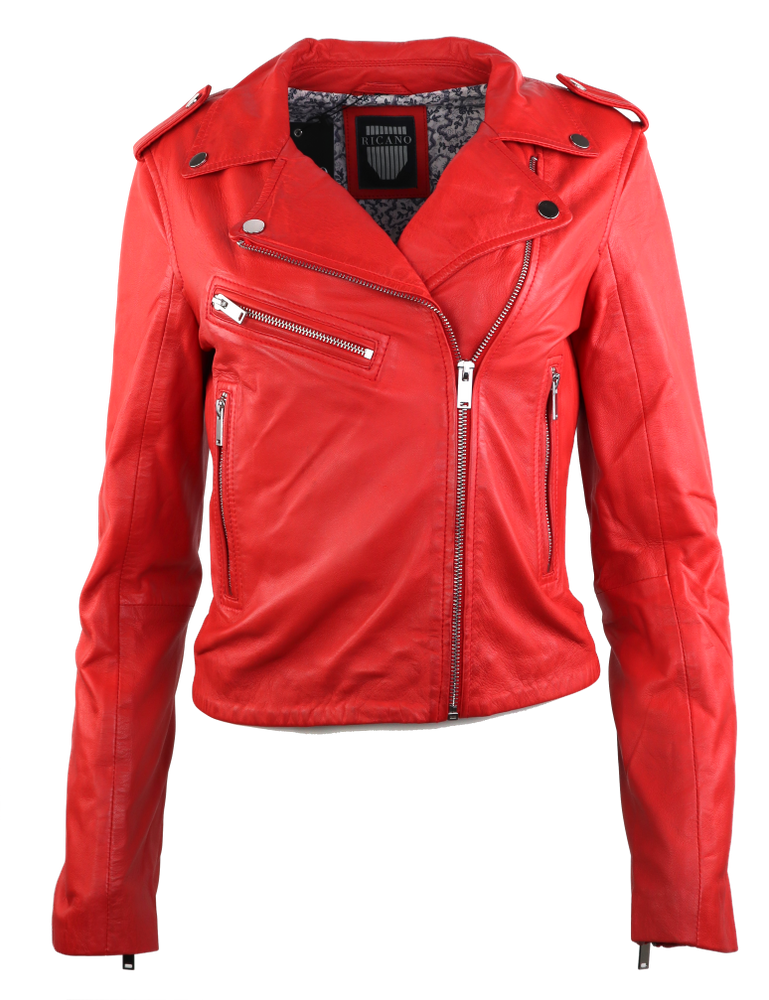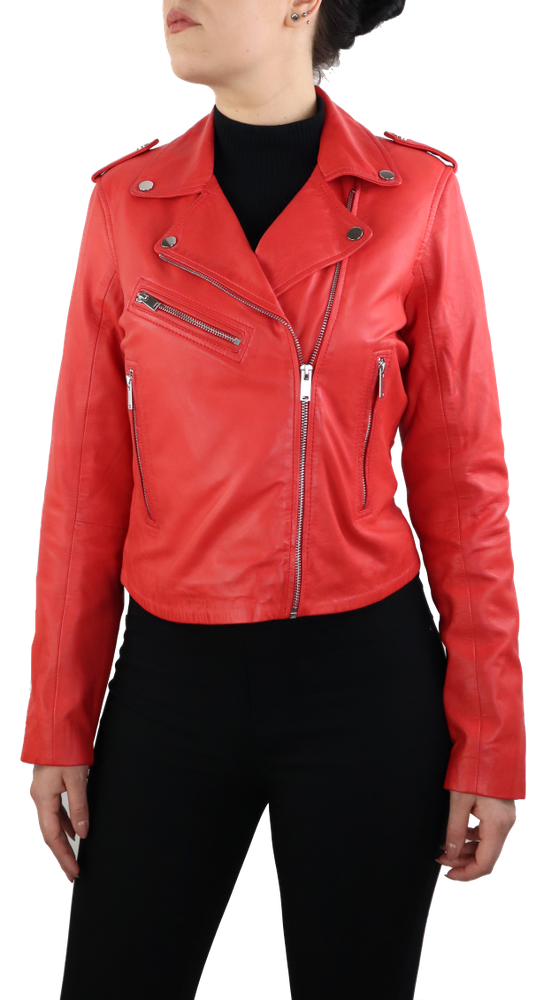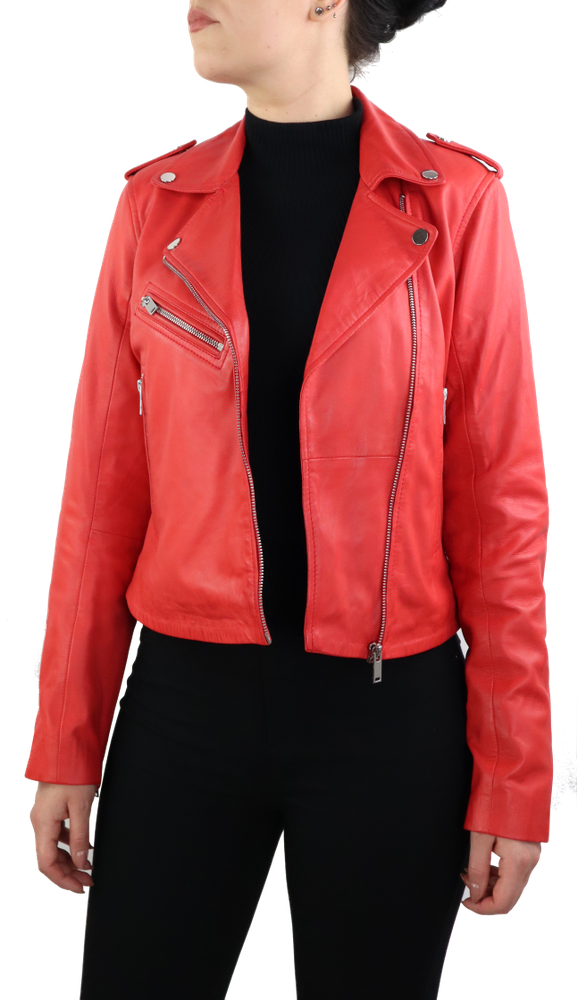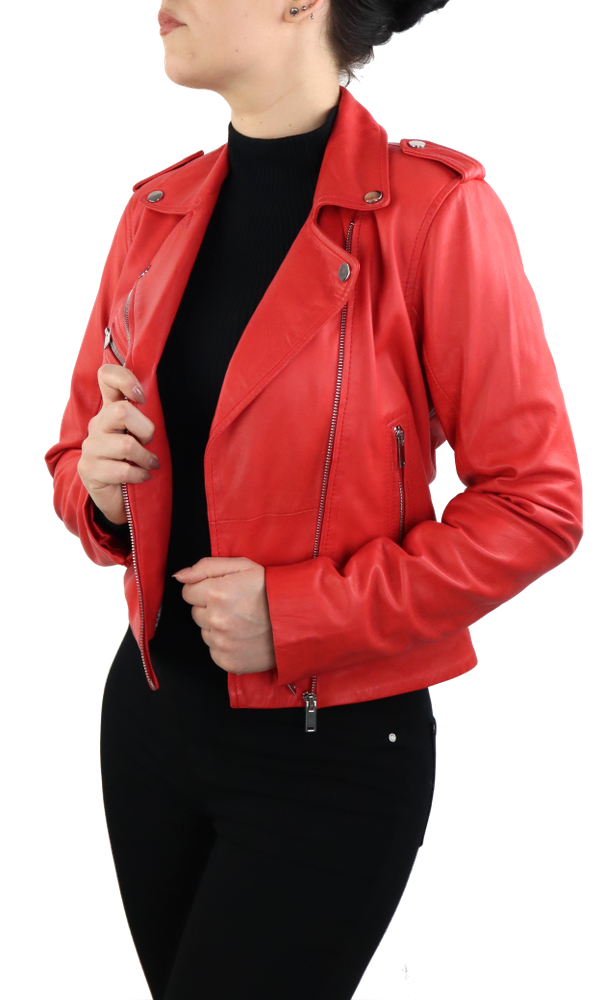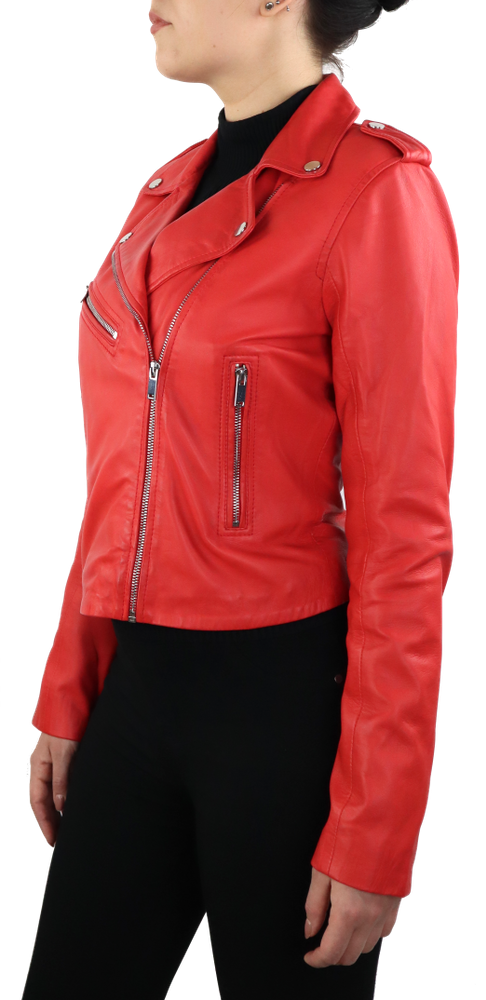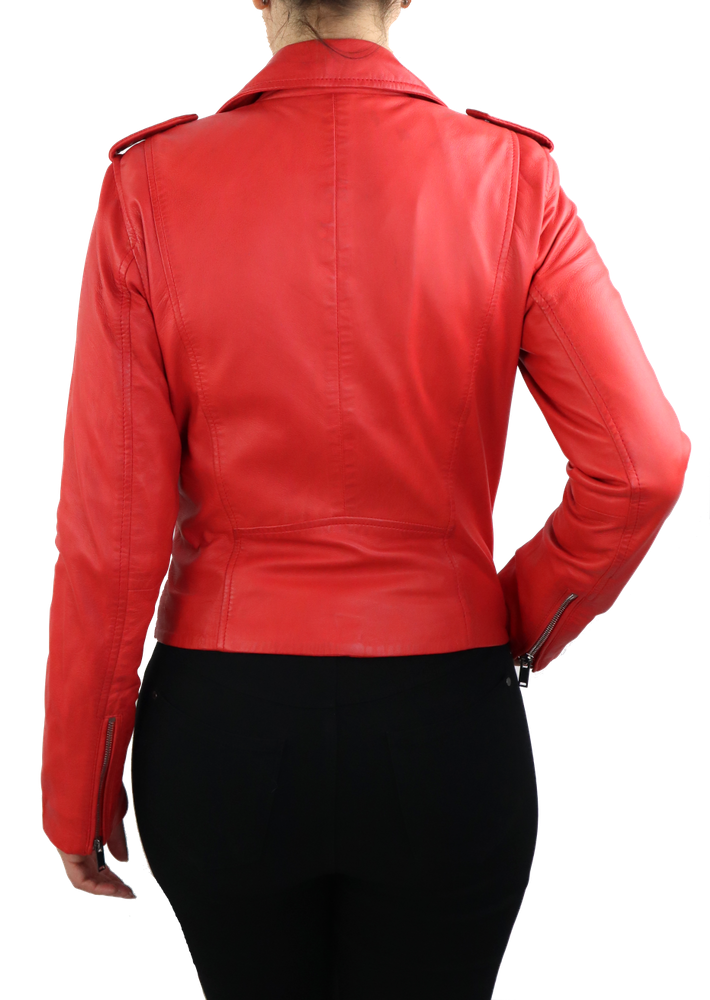 Ricano
Item number: 7620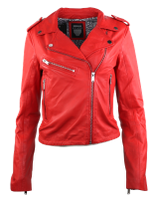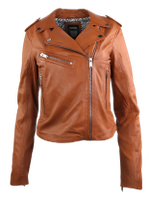 Style
Damen Lederjacke im Biker-Stil

Material
100% Echtes und butterweiches Lamm-Nappa Leder - Glattleder

Passform
Femininer und figurbetonter Slim Fit

Taschen
Zwei Seitentaschen mit Reißverschluss, eine Brusttasche

Jahreszeit
Ideal für den Übergang im Frühling und Herbst - Übergangsjacke

Gewicht
Ultraleicht mit 750 g bei Größe M

Kragen
Modischer und ausdrucksstarker Reverskragen

Reinigung
Nur fachmännisch und niemals in der Maschine

Verschluss
Schräger Front-Reißverschluss

Innenfutter
100 % Baumwolle für ein angenehmes Tragegefühl

Accessoires
Hochwertige Metall Zipper und Knöpfe in klassischem Silber

Extras
Innenfutter mit Print

Größenausfall
Die Lederjacke fällt eine Nummer kleiner aus - Bitte eine Nummer größer wählen als gewohnt - Italienisches Fitting
Damen Lederjacke 7620 - klassische Bikerjacke in modernen Farben


Strahlendes Knallrot und warmes Cognac-Braun - in diesen beiden ausdrucksstarken Trendfarben präsentiert sich die moderne Bikerjacke 7620.
Charakteristischer Reverskragen, schräger Front-Reißverschluss sowie Metall-Zipper und Druckknöpfe in glänzendem Silber verleihen der Lederjacke 7620 ihren klassischen Biker-Look. Zwei Seitentaschen und eine Brusttasche tragen zur authentischen Motorradjacken-Optik bei und die Schulterklappen runden das rockige Design perfekt ab.
Im Vergleich zur derben Motorrad-Lederjacke vergangener Tage überzeugt die 7620 mit einem butterweichen Obermaterial aus feinstem Lammnappa-Leder. Ein schmaler Slim Fit - Schnitt umspielt dabei perfekt Deine Figur und betont Deine Taille - so wirkt der Biker-Look gleichzeitig tough und feminin.
Die Damen Lederjacke 7620 punktet außerdem mit einem Gewicht von nur rund 750 Gramm (bei Größe M) und ist somit eine ultraleichte Version der klassischen Biker-Lederjacke. Durch ihr geringes Gewicht, ihr weiches Leder sowie ihrem hochwertigen Innenfutter aus 100% Baumwolle garantiert die 7620 Bequemlichkeit und hohen Tragekomfort.
Besonders in der Herbst- und Frühjahrs-Garderobe macht sich die Lederjacke 7620 gut. Ob als starkes Statement-Piece zum schlichten, unifarbenen Outfit oder als farbenfrohes Highlight zum bunt gemusterten Kleid getragen: In den Trendfarben Rot und Cognac sorgt die stylische Damen Lederjacke 7620 immer für Eindruck.
Besonderes Extra: Ein floraler Allover-Print macht auch das Baumwoll-Innenfutter der Lederjacke 7620 zum modischen Hingucker.
Ist die Lieferung und Rücksendung kostenfrei?
Der Hin- und Rückversand innerhalb Deutschlands ist für sie stets kostenfrei.

Sie können Artikel innerhalb von 60 Tagen kostenfrei und unkompliziert zurückschicken.

Um ein Retouren-Label für den kostenfreien Rückversand zu erstellen, können Sie jederzeit unser DHL Retouren-Portal nutzen.
What do I do if an item does not fit?
Sometimes an ordered item does not fit ideally right away. Therefore, we have built a strong exchange service for you: exchange your non-fitting article uncomplicated, lightning fast and free of charge in another size.

For this purpose, you can simply note your exchange request on the invoice and enclose it with the shipment - We will immediately initiate the shipment of the exchange upon receipt of the return.

Alternatively, you can of course request a refund of your payment.

To create a return label for free return shipping, visit our DHL Retouren-Portal.
How long do I have time to retun an item?
You can return items to us free of charge within 60 days, even if you purchased them on sale - the only important thing is that the items were not worn beyond a fitting..

Please take care not to detach or remove attached labels.
How can I pay?
Prepayment via bank transfer: You pay your order after purchase by bank transfer to the payment address noted on the invoice. After receiving your payment we will ship your items immediately.

PayPal: Pay conveniently and directly with PayPal. For this you must have a Paypal account. Paypal offers instant payment confirmation, conflict resolution and buyer protection.

Cash on delivery: You pay the order in cash to your DHL parcel delivery service upon acceptance of the shipment.
What size should I order?
We experiment a lot with cuts and sizes, and therefore can not give a blanket size recommendation. For each item you will therefore find an individual note in the details under "Size breakdown".

But if you want to be sure and avoid unnecessary back and forth shipping, you are welcome to note us your measurements when you buy. We will be happy to measure our stock and find the best possible fit for you.

For pants, the single waist size is important: simply measure the waist of trousers that already fit you well, from one edge to the other.

For jackets, the underarm width is crucial: take a well-fitting jacket and lay it flat when closed. Fold up the sleeves and measure from one armpit across the chest to the other armpit.

This indication in centimeters helps us to send you a promising piece at the very first attempt.
For all other requests we are of course also available by phone or mail.
Cookie Information
This website uses cookies to optimize your visit. By continuing to use this website, you consent to the use of cookies and acknowledge our Privacy policy